Nicholas "Nick" Delpopolo (born February 8, 1989 in Nikšić, Montenegro) is an American judo athlete. He competed in the men's 73 kg event at the 2012 Summer Olympics; after defeating Cheung Chi Yip in the second round and Dirk Van Tichelt in the third, he lost to Wang Ki-Chun in the fourth round and was eliminated by Nyam-Ochir Sainjargal in the repechages.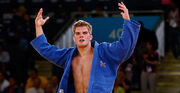 On August 6, 2012, Delpopolo was expelled from the Olympics by the IOC after he tested positive for cannabis. Upon exiting the games, Delpopolo stated the positive test result was caused by "inadvertant consumption of food that I did not realize had been baked with marijuana, before I left for the Olympic Games."
Ad blocker interference detected!
Wikia is a free-to-use site that makes money from advertising. We have a modified experience for viewers using ad blockers

Wikia is not accessible if you've made further modifications. Remove the custom ad blocker rule(s) and the page will load as expected.