Justin Gatlin


Sport
Track and Field
Events
100m
Drug of choice
testosterone
Doping Sentence
8 year ban reduced to 4 years
Current Status
Active
Personal Information
Birthdate
February 10, 1982
Height
6'1"
Weight
183lb
Country
USA
Hometown
Orlando, Florida
Justin Gatlin is an American sprinter and a gold medalist in the 100m at the 2004 Athens Olympics. After testing positive for testosterone, Gatlin avoided a lifetime ban from competition by agreeing to cooperate with doping authorities and had his ban reduced to eight years. The final ruling reduced his ban further to four years.
Doping Allegations
Edit
On July 29, 2006 Justin Gatlin told the media that he had been informed by the USADA that he had given a positive doping test in April the same year. He claimed his innocence in the matter. It is believed that the substance that Gatlin tested positive for was testosterone or its precursor. The failed test was revealed after a relay race on April 22, 2006 in Lawrence, Kansas. The "B" sample was confirmed as positive in July.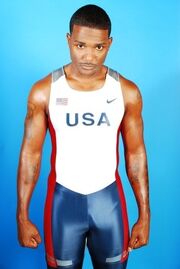 Gatlin is coached by Trevor Graham. Among athletes Graham has coached, eight have tested positive or received bans for performance enhancing drugs. After Gatlin's failed test, Graham stated in an interview that Gatlin had been sabotaged. He blamed massage therapist Christopher Whetstine for rubbing a creme with testosterone onto Gatlin's buttocks without his knowledge. The therapist denied the claim.
Doping Conviction and Ban
Edit
On August 22, 2006, Gatlin agreed to an eight-year ban from track and field, avoiding a lifetime ban in exchange for his cooperation with the doping authorities, and because of the exceptional circumstances surrounding his first positive drug test. However, on December 31, 2007, in the final ruling, Gatlin received a four-year ban from athletics.