Jan Ullrich


Sport
Cycling
Events
Tour de France
Doping Sentence
stripped of palmares from 2005 onward
Current Status
retired
Personal Information
Birthdate
Dec 2 1973
Height
1.82M
Weight
75kg
Country
Germany
Hometown
Rostock Germany

Jan Ullrich (aka Der Kaiser) was born in the former East Germany and is a former professional road bike racer. Jan Ullrich won gold and silver medals in the 2000 Olympics in Sydney, Australia . Jan is best known for his Tour de France victory in 1997 and frequent second place Tour de France finishes behind admitted doper Lance Armstrong.
Doping Allegations
Edit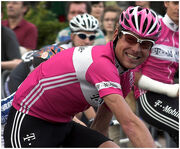 Jan was mentioned in the Operation Puerto investigation into the 2006 Giro d'Italia for rumors of doping which he denied. In 2006, expert Werner Franke laid claim that Jan Ullrich purchased about 35,000 EU of doping products based on documents from the Operación Puerto doping case. A German court however found there was not enough evidence to link Ullrich to doping. In 2008, the German investigation was closed after a settlement, which in German law means Ullrich was found not guilty.
Doping Conviction
Edit
In February 2012, Ullrich was found guilty of a doping by the CAS and was banned from August 2011 retroactively and all results since May 2005 were removed from his Palmares.
Notable Achievements
Edit
Jan started his own line of bicycles